Watching The Mountains Burn
Last night I went to my first-ever Dodgers game. Even though it was a great game and tied 3-3 in the bottom of the 9th, we didn't stay for the overtime innings.
Why not stay for the end of the game? Because of this: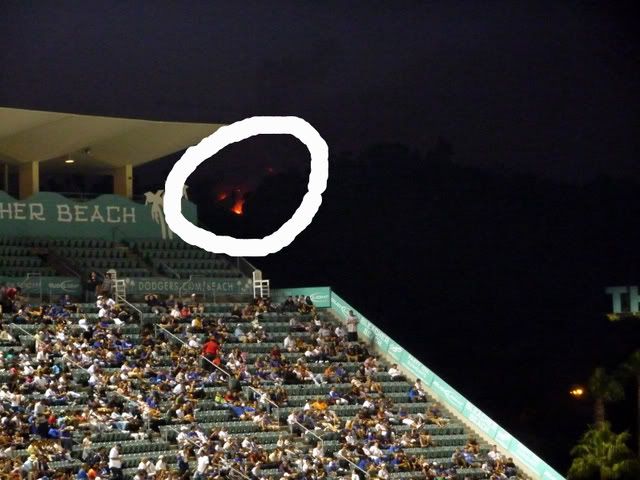 Yes, I was at Dodger Stadium and I could see the Station Fire burning in the mountains to the north of me. We left because my eight year-old son's eyes were watering and burning like crazy because of the poor air quality. I felt so bad because he wanted to watch what was going on, but the last two innings, he sat on my lap with his eyes squeezed shut. I also had burning, watering eyes and a burning throat, too, and that was even after taking some pre-game Claritin.
The Station Fire area is only a 15 minutes drive from my house. I just hop on the 2 Freeway and before I know it, I'm in the Angeles National Forest. A couple weeks ago I was up around the area where the fire began and I thought to myself, it's too dry up here and fire season is coming. I had no idea how soon it would arrive.
We're entering day seven of this fire and officials are saying there's no relief in sight. We're hearing that it could burn for two weeks. Day seven of having every window shut and the air conditioner running constantly in the hopes of filtering out the fine particles of ash. But I can't complain because I haven't lost my life fighting it and my home hasn't burned down.
To give you some perspective on how big this fire is, all five boroughs of New York City are a total of 195,000 acres. The Station Fire has burned 122,000 acres so far. It's 25 miles wide, 18 miles long in it's widest point, and only 5% is contained.
The Los Angeles Times photographers have been doing an outstanding job documenting the fire through
spectacular yet chilling photos
. The smoke is even
visible from space
.
Columnist Eugene Robinson has an interesting
opinion piece
in today's Washington Times. His opening line is, "Los Angeles seemed like a good idea at the time." He compares the existence of Los Angeles to the existence of New Orleans... another place that also seemed like a good idea, pre-Hurricane Katrina.
We should take common sense and the environment into account when building housing, but every place has it's dangers. I could move to the Midwest and have my house blow away in a storm. I could move to the East Coast and face hurricanes. If someone says the answer is for everybody to pack up and move to a place where there's no danger, I'm wondering where exactly is that spot?
In the meantime, a
hurricane is bearing down on Baja California
. I'm going to pray that somehow it'll steer itself closer to Los Angeles. We sure could use the rain.