No, I'm Not Nuts. I'm Just Training For The 2011 Los Angeles Marathon
Boys and Girls, Ladies and Gents, Cats and Dogs...the rumors are true.
I'm training for the 26th Los Angeles Marathon!
If you're asking yourself, um, didn't she already run a marathon? Yes, I sure did. Three to be exact.
I've run two Los Angeles Marathons and one Pasadena Marathon, and I'm gearing up for another one. In fact, I just got home from a quick 30 minute training run and now I'm all psyched and thinking about how proud my sons look when they see me running a race. And I'm thinking about what this year's medal will look like.
Go on and call me a medal whore if you want to. After all, it's true. I like the bling a whole lot, and my race completion medals DO look extra awesome hanging on the wall in my living room. Besides, I get to totally cheese for the camera after grinding out 26.2 miles. For example...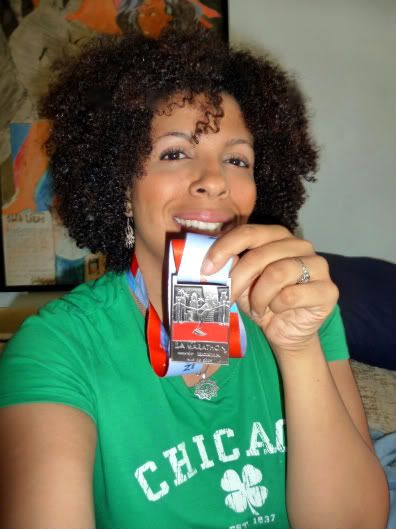 Wow, I just realized I ran THREE marathons in less than a year. I feel like hot stuff now. See, this is why I blog. And why I run. I like my pants to fit but I like my sanity even more and writing this post just reminded me that I AM SOMEBODY!
No joke, I had a momentously awful morning today. Some people drink and smoke their stress away, but I've found that the healthiest way for me to deal with stress is by running. Post run, I feel so much better and I started reminiscing about my marathon beginnings.
Back in August 2008 when I began training for my very first race, I wrote this:
"In case you don't know how far a marathon is, it's 26.2 miles. Right now, I clearly can't run that sort of distance. Well, I suppose if you light a fire under me or beat me with a stick, I'd have no choice, but you know what I mean."
Nowadays, I know I can run that distance - no fire lighting or stick beating required!
This year I have new challenges. I'm dealing with IT band issues and I'm recovering from patellar tendonitis in my left knee - which is why I came home and threw a bag of frozen veggies over it - but I'm still showing up for myself. Every training run is a new challenge, a new adventure, a new chance to say yes, I can do this distance - whether it's two miles or 26.2. Plus, I like to listen to awesome music while running because, let's face it, my club days are WAAY over.
Today's playlist heavily featured...
Sorry if I you heard my fingernails on the blackboard awful singing as I ran by your house. I was just really feeling it this morning.
I'll be heading out to Santa Monica every Saturday morning for a long run with my running club, the
LA Leggers
. It's not too late for you to sign up to do the Leggers program as well if you think you might want to take on the challenge. Trust me, if I can do it, you can do it.
Today was a good reminder that I just have to believe in myself and put in the work. No one else can do it for me. No one else.