My Los Angeles Marathon Experience
Wow, that was fun.
Yeah, I said
fun
. Three days after I crossed the finish line of the 24
th
Los Angeles Marathon, that's the word that still comes to mind when I think about the whole experience. Yes, my legs are a still a little sore and it hurts a teeny bit to walk down steps or down the hill I live on, but I don't regret the experience at all. Running my first marathon was amazing, unreal, tough, grueling... and
sooo
much fun.
Think of it this way: Only in marathons do you get to run in the middle of the street with people dressed up as Darth Vader and carrying
light sabers
, folks wearing
Spiderman
suits, blue
afro
wigs, and, ahem, running in a testicle suit.
Seriously, run down the street dressed in that testicle suit on any other day and people will not cheer for you. They'll dial 911 instead.
While I've been relaxing over the past couple of days, I've been trying to come up with some way of summing up the entire experience. There's just too much that happened! I could start with the night before the race and tell you how I, the Queen of Insomnia, took some Tylenol PM. That "PM" means it's supposed to put you to sleep.
Pfft
! Two hours after I took that stuff, I was STILL awake!
I could tell you about how before every long run, I always eat some toast with peanut butter and have a cup of Earl Grey tea, and so I did the same thing on Monday. Or I could share how while waiting for the race to start, I watched my hands shake like crazy because I was feeling so nervous.
Hmm
... maybe marathon observations in list form:
1) The Start:
Talk about a crazy adrenaline rush!!! I totally cheered as we ran over the starting line... and there, standing on a platform was the Mayor of Los Angeles, Antonio
Villaraigosa
. He looked positively bewildered and like he was thinking, "Look at these ca-
razy
people! How many of them voted for me? How many could I get to vote for me if I run for governor?"
2)

Crackberry

:
Because I'm such a tech nerd and I just got a new Blackberry, I decided to do race updates on Twitter and
Facebook
. I'd also planned to take a picture at every mile marker, but, uh, it's kinda hard to run and use a Blackberry at the same time, so there were definitely some gaps where there were no pics.
3) Spectators:
Some of them yell, "Hey, you wanna cigarette?" and some of them have orange slices and cups of water, but they are all cheering! They're out there with signs and posters,
chillaxing
in their lawn chairs, and showing the wonderful diversity that exists in Los Angeles.
4) My kids:
The best spectators were my family and friends that came out... especially my little boys. The look on my son's faces when they saw me between mile 19 and 20 is one I'll never forget. They were in awe! Oh, and my five year-old tried to jack my pretzels that I had pinned to my running belt. He actually started running alongside me, trying to snatch them. Post race, they kept hugging me and telling me how proud they were of me. I feel like such a good role model for them!
5) Death:
Without fail, on long training runs, I'm fine for the first dozen miles or so. Then I start to not feel so fabulous at around mile 14 or 15. I start wondering why the heck I'm doing this to myself. I start to want to just go sit down on the curb for a second and rest. This feeling only lasts for a couple of miles, and I know this so that's why I told my family to come see me after mile 17. That way, I couldn't let them down and not show up.
6) Running Buddy:
My running buddy, Ollie, who I've trained with for most of the past year, was amazing. When I was feeling like I was going to die, he didn't ditch me just because he was feeling better. We stuck together and crossed the finish line together. Here we are at around mile 20:
I smiled a lot during the race. I couldn't help it, I was so happy to be accomplishing something so amazing.
7) Weather:
I'm SO grateful that the weather stars aligned because all last week I was stressing out about the possibility of heat. (Last year was 100 degrees on Memorial Day.) However, we had a super deep marine layer (that means fog) so all the sun and hot weather I was terrified of didn't materialize until I was maybe at mile 18 or 19.
8)
Students Run LA
:
It was so fun to run the race with almost 4,000 high school students! They were amazing and so full of energy. It got me thinking that in another 10 years when my kids are in high school, maybe we can all run a marathon together...
9) Water:
Lots of volunteers stand along the course with cups of water and those are great for drinking
and
for dumping over yourself to cool things down when the sun's starting to feel super hot. But, it wasn't till I'd dumped maybe four cups of water over myself and was totally wet that I remembered my shirt was white... oh well.
10) The
LA

Leggers
:
Are hands down, the best running club in Los Angeles. If you want to run a marathon and you live in LA, come train with them. Everybody is so encouraging and they know their stuff. I'd never run more than three miles before last August when I started training with the
Leggers
... plus they had special support stations along the marathon route just for us and it was SO good to see their friendly faces!
The Finish:
After mile 20, your mind starts thinking, "I've got this. Only six miles left... that's
nothing
!"
Yeah, six miles actually turns into nothing when you've already run 20 of them. I could see Downtown ahead of me, and with every step those skyscrapers were getting closer.
The finish was challenging because it was an uphill grade going into downtown. Because we've been training in Santa Monica and Venice, it helped to think stuff like, "We just crossed out of Venice and we're in Santa Monica now. We're almost to the Ferris Wheel!" Also, I was very grateful I've been running in my super hilly neighborhood. That helped a lot.
Around mile 23, I started feeling really emotional, and had to wipe tears off my cheeks. I felt so good, and so proud of myself... this was a really serious goal and I was
thisclose
to achieving it! I also kept thinking of my kids waiting at the finish and how happy I was to be able to prove to them that you really can do anything if you set your mind to it.
And my gawd, when we turned off Olympic Blvd. and onto Flower Street and could see the 26 mile marker ahead, and then beyond that, the finish, I was SO happy. Both sides of the street were packed with people behind barriers who were screaming like crazy, ringing cowbells...
OMG
IT WAS NUTS!!!!!
The last .2 miles after crossing the 26 mile mark was totally surreal. And then I was over the finish line, I was giving Ollie high fives and hugs, and somebody was putting a medal over my head!
I walked three more blocks, found my family, got a million hugs from my kids, my friend
Maisha
took them home with her, my husband too me home, and I sat in a big tub of ice water for awhile! Then I took a hot shower and, two hours post-race, I was chilling on the couch with my medal!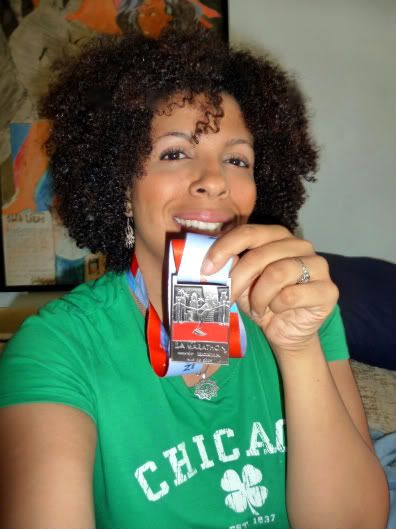 Yeah, it's kind of heavy for an everyday necklace, but I had to run 26.2 miles to get it, so I'm not taking it off anytime soon.
Since then, I've been taking it easy, sleeping, taking slow walks around the neighborhood, stretching... and thinking about my next marathon. Yes, I want to do another one. I'm not sure which one or when it's going to be, but I'm going to do another one for sure!
I do have to say thank you to all you sweet people who thought of me and wished me well. It really means a lot... and you were another reason I kept going. I couldn't very well come back to this blog and say, "Sorry people, I just decided to quit at mile 17 because I was tired!" could I?
And what about you? Really, if I can run a marathon,
you
can do one, too. Think about it... the idea is not
that
crazy. Besides, you might surprise yourself and have a LOT of fun along the way!