Santa Barbara Kills Stress
I'm sitting here wishing I was back in Santa Barbara and I'm wondering why I don't drive up there more often than I do. It's only about 80 miles away, and it happens to be one of my favorite places because it's breathtakingly beautiful and seriously relaxing. And I have needed help relaxing a LOT lately. If you put my stress level as of late on a scale with 1 being not stressed and 10 being I think my head may explode because I'm so stressed, well, I've easily been at a 9 or 10 over the past few days.
Why so stressed out?
Eh, I'd rather not get into it. Even describing all the drama makes my right eyelid twitch uncontrollably. But I was really feeling the need to step back so I could see the whole picture, so since state testing is over, I pulled my kids out of school and drove up the coast.
A few bits of low clouds and morning fog remained as we drove north up the 101 Freeway. I love the views just north of
Ventura
where you see mountains on one side and the Pacific Ocean on the other. It's absolutely gorgeous: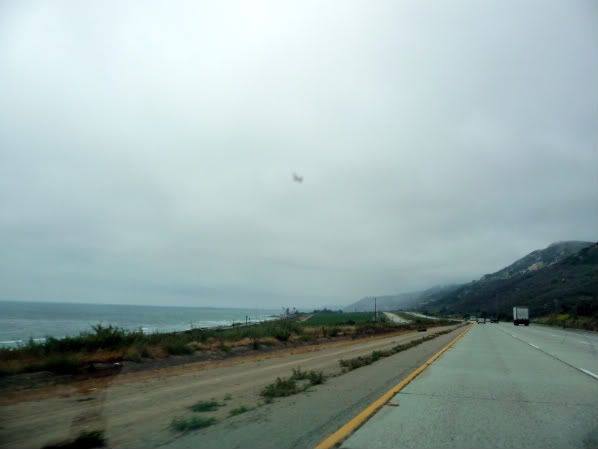 Thirty minutes later when we stopped off at Butterfly Beach in
Montecito
, just south of Santa Barbara, most of the clouds had burned away and the sky was a gorgeous blue. The beach was almost completely deserted and even though it was incredibly windy and a bit chilly, It was so peaceful to just walk in the water and feel the waves crashing across my feet:
My kids collected sea shells and chased each other across the sand while I snapped pictures and thought about how there is so much uncertainty in this world. There's always uncertainty, sure, but it feels like more uncertainty than ever is going on. Yeah, nationally and internationally things are still in total turmoil. And on top of my own personal worries, in my own six degrees of separation, pretty much everybody I know is going through a challenging time in their lives: serious illness, relationship problems, marriages on the rocks, job turmoil, serious debts, deaths in the family, unplanned pregnancy, mental illness, loneliness, weight issues, depression and addiction issues.
You ever meet people who are so bitter and angry at the world that you wonder what the heck happened to them? Of course you have. They're everywhere, and I don't want to be one of those people. I am increasingly convinced that the difference between the people who have overcome adversity and still live their lives no matter what and the people who go around totally negative, pessimistic and with their face twisted up into a grimace is the way they dealt with key challenges at critical points in their lives.
I don't want to be bitter and living on regrets. I don't want my children growing up with memories of their mommy seeming like she wasn't herself. You know?
So, after leaving Butterfly Beach, I headed a few minutes north to Santa Barbara and watched my five year-old do his thing at a skate park called Skater's Point: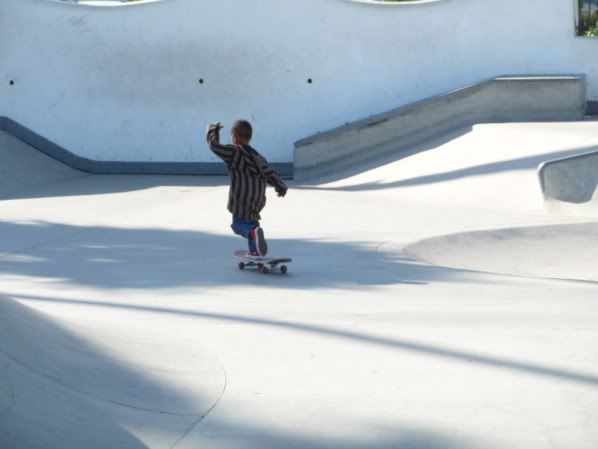 He was the youngest skater there, and, quite frankly, his fearlessness inspires me. He has no voice inside him saying, "What are you thinking? You can't do it!" Nope, he's out there skating his butt off, believing in himself. And I know at his age I already did not believe in myself. I already had a lot of fears about life, and did not have even half the confidence he does. In some ways, I still don't, and I know that really hurts me in so many areas of my life.
But when I'm around such beauty, it's easy to forget that.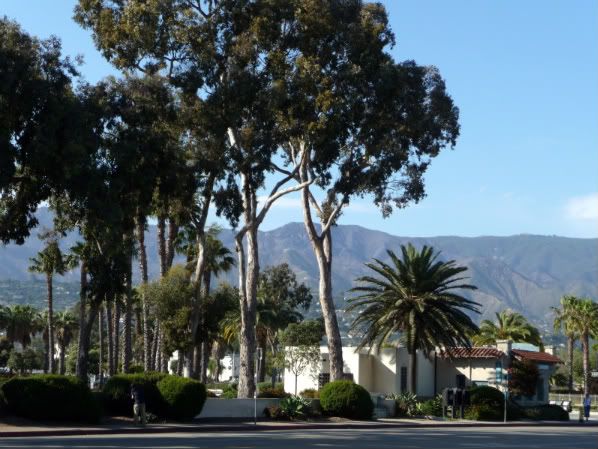 Alas, I'm home in Los Angeles, and all the things I didn't have to think about while I was getting away are still sitting on my doorstep. But it's nice to have a clearer head, a more balanced outlook, and a reminder that there is still beauty and goodness in this world. I should go back soon... it
is
only 80 miles away.